Die Wirtschaftswelt rückt immer näher zusammen und Englisch ist die Lingua franca des heutigen Business. Auch Versicherungsvermittler stehen häufig vor der Herausforderung, Englisch sprechen zu müssen. Eine Serie auf versicherungsmagazin.de bietet den Einstieg in grundlegende Fachbegriffe der Assekuranz auf Englisch. Im ersten Teil geht es um Risikomanagement.

Wenn wir auf einen neuen Begriff stoßen oder im Kundengespräch einen Fachbegriff benutzen, lautet die Frage häufig: "Was versteht man denn darunter?" So auch im Englischen: "What do you unterstand/ mean by this?" Für die Formulierung einer Definition suchen wir am besten nach einem Oberbegriff (generic term) und typischen Merkmalen (typical features). So versuchen wir uns auch, an den Begriff "Versicherung" heranzutasten.
Insurance - part of the Risk Management (RM) Process
Can you distinguish different meanings of the technical term 'risk'?
danger of collapse, damage, falling, getting hurt, ...
uncertainty as to the outcome of an event
loss or damage against which you are insured, e.g. fire peril/ danger of fire/ fire hazard, personal accident, ...
person or object (to be) insured, 'he is a good or bad risk'. Examples: a high-risk item, or an individual may be a bad life risk if he is suffering from a chronic disease.
probability of loss
To what extent do you have to do with RM activities? Think for example of any crime prevention and safety tips of the police.
to protect your home and belongings
to prevent theft from your motor vehicle, specifically your GPS unit
to protect your money when using ATMs
to stay safe while surfing the web and shopping online
to protect yourself from becoming a victim of identity theft ...
What is one of the most important aims of the Risk Management process?
The RM process can be shown as a cycle, it is a permanent feedback control system which helps private persons and businesses to reduce the probability of losses, and – if at all possible - to avoid damaging events.
What steps does the Enterprise Risk Management process involve?
1. Risk analysis,
2. Risk assessment,
3. Risk control and
4. Risk financing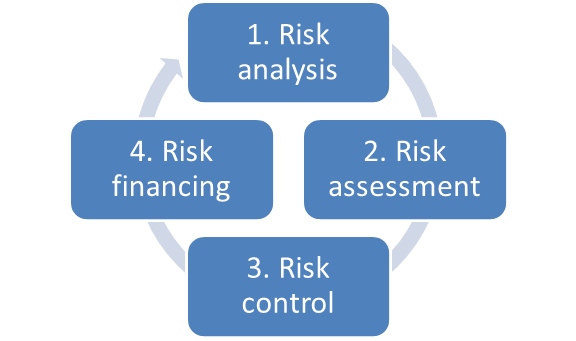 Having the above chart in mind, how could we define the term 'insurance'?
Insurance can be a valuable risk-financing tool. It is the catastrophe one is aiming to insure against. Risks ranging from fire and natural disasters to workplace accidents can be covered.
Glossary
technical term = Fachbegriff
uncertainy = Ungewissheit/Unwägbarkeit
probability of loss = Schadenswahrscheinlichkeit
ATMs = Geldautomaten
Risk control = Steuerung
The author
After many years working in the insurance business (mainly in the non-life sector) and being involved in various teaching activities and projects dealing with textbooks, Dieter Aigner has gathered additional experience as an English trainer on behalf of BWV Rhein-Main since 2009.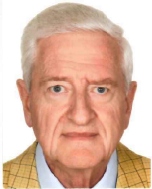 Autor(en): Dieter Aigner